ICTInnovations released the ICTFax Service Provider Ver 5.2. ICTFax SP Edition is an Email to Fax, Fax to Email and Web to Fax software  application also it supports Extensions / ATA, REST API's and T.38, G.711 pass through and PSTN faxing. ICTFAX SP Edition is based on open source Freeswitch, ICTCore and Angular Framework.
Following are the new features and Addon introduced in ICTFAX Service Provider Editon Ver 5.2
1: Trunk Route Management:
ICTFax SP version 5.2 features Trunk Route Management. The admin can configure trunks for specific countries, for example, if a user has multiple trunks, the admin can configure these trunks for specific country. When a contact with a prefix dialed, the system selects trunks based on dialed prefix. associated with it.
2: Reseller / Tenant Support:
ICTFax Service Provider Ver 5.2 features reseller support. Admin can add tenants with white label supports and these tenants can further add their users / extensions / associate DID numbers to users as per requirements. Each tenant / user will have their own web portal to manage their faxes within their assigned daily or monthly quota limits.
3: CDR Report Improved:
CDR Reports has been improved with option to add date range filter to search the specific report. user/admin also search report on base of User, tenant, and direction.
4: Time and Date restriction for Tenant:
ICTFax SP Version 5.2 features time and date restriction for tenant & users. The admin sets the time and date for sending faxes to tenants and users. Users can only send faxes during the specified time and date. If they try to send faxes outside of this restricted period, the system will display an error message.
5: Dedicated trunk Support (addon):
ICTFax Service Provider Ver 5.2 features dedicated trunk support. Admins have the ability to assign a specific trunk to a particular tenant. This allows the tenant and their users to utilize that designated trunk. Furthermore, admins have the capability to assign multiple trunks to a single tenant.
6: Improved Personalized Fax (addon):
ICTFax Service Provider Ver 5.2 features improved personalized Fax, ICTFax checks Fax documents for personalized tokens, If token found, ICTFax system replace destination contact information with token contact information and send the Fax document.
7: OCR of Fax Document:
ICTFax SP version 5.2 supports OCR of Fax Document . When ICTFax system receive a Fax document, the OCR/System will read the text and save in  database. Alternatively, the user/admin can view , copy and paste the text of Fax document.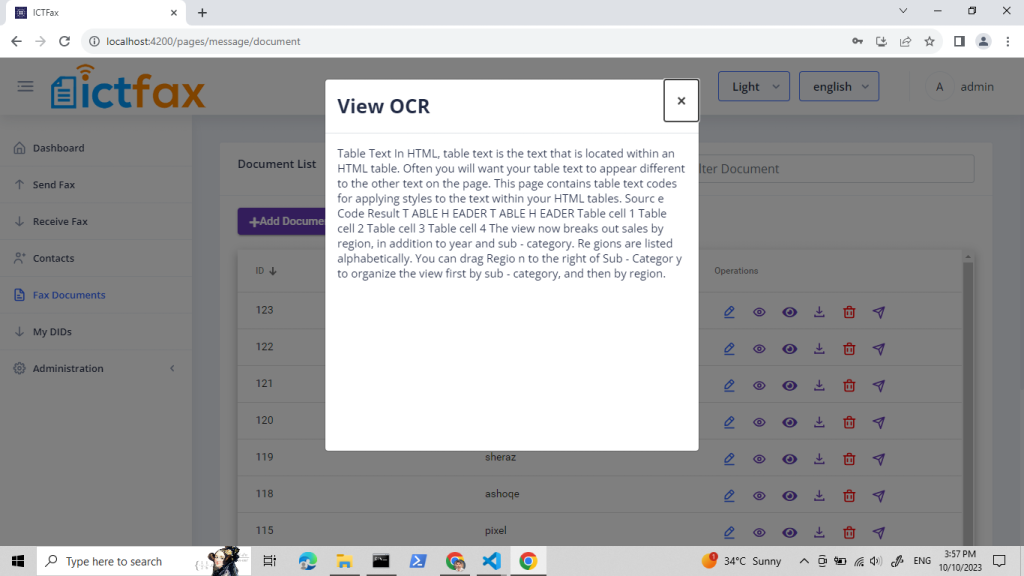 8: Retention Support + Hipaa compliance / Encrypted Faxes(addon)

:
ICTFax SP version 5.2 features Retention and Hippa Compliance support . In retention support  Faxes are automatically deleted after the retention period configured by admin. For example if admin has set 1 day as the retention period for a tenant / user, Faxes of said tenant /  user will automatically deleted after 1 day. 
In Hippa compliance, whenever ICTFax system receive a Fax documents, it automatically encrypt these Faxes immediately and save Fax documents in encrypted form. Hippa Compliance make sure that no one including admin can decrypt / view the content of Fax documents. Only destination user with encryption key can decrypt and download it also after set retention period the Fax will automatically deleted from ICTFax system provided the user has downloaded the Fax document.