ICTFax software is an open-source multi-user and web-based software solution for service providers based on open source angular and FreeSWITCH with the bundle of standard features. Fax campaign one of the best feature which helps users to send faxes in bulk. There are the following steps to create a fax campaign.

Steps to Create Fax Campaign in ICTFax
To run a campaign first requires to upload contact groups. Follow the below steps to upload contacts in ICTFax software.
Contact Groups
Navigate to the contacts menu, then click on the groups sub-menu, a list of the group list, group name, contact count, operations are available on-page. Click on the edit button to overview and to perform editing in contact group details.

Create Contact Group
Click on add group button, it will open the contact group form with required fields such as:
Write the contact group name in the text box.
Click on choose file button to upload the contacts list.
Write contact group description in the text box.
Click on Submit button to complete action as shown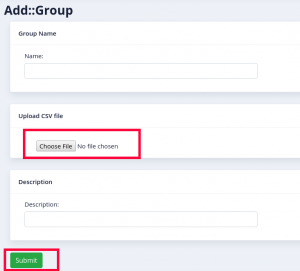 Fax Campaign
Navigate to the fax campaign menu, it will display a list of active, completed campaigns and details.
Click on the start button corresponding to desired campaign to run the campaign.
Click on the Pause button when it needs to stop the campaign.
Click on the Edit button to overview and to perform editing in campaign details.

Add new fax campaign
Click on the new fax campaign button, it will open the campaign form with the required field such as:
Upload document in ICTFax
Click on the upload button, it will open a pop-up form to upload a new file/document or select from a document from drop-list.
Click on the contact group drop-down, select desired contact group from the list.
Click on the retries drop-down, set reties clock time in the field box.
Set call per minute time in the text box.
Click on submit button to complete action as shown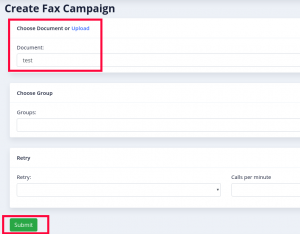 How to Check CDR (Call Detail Report) report and is it helpful in ICTFax?
CDR provides complete details of calls like (Call start time, Call end time, Call Status. etc ) which helps
users to analyze results. The following steps lead to viewing CDR reports:
Click on the CDR reports menu at bottom of the main menu, it will open a list of CDR reports and other details.
Click on the export to CSV file button to download the CDR report as shown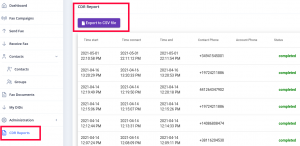 Want more to read about Fax Campaign Configuration